My sister wants to dye her hair. I don't think she should. In 9th grade, I dyed my hair for the first time. I put blonde highlights in it. My hair was basically the same color as hers. Then I kept going lighter blonde until freshman year of college, when I went red. Bright red. Clown red. It was a drastic change.
I was going to pull up a picture of me with blonde hair, but they're all so hideous. So, I'm not going to do that. Maybe tomorrow. But this was the brightness upon first dye. Also, I am Harry Potter.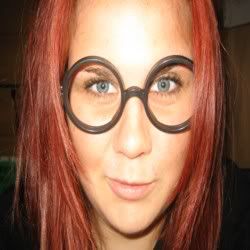 Sometimes I miss being blonde, but having red hair changed me. I don't know how to explain it without sounding like a cheesy movie, but it helped me come out of my shell and discover myself. God, I hate myself.
Anyways, she claims that our natural "dirty blonde" hair is ugly.
Betsy:
I hate it
. Its like the color of nothing.
Its like what nothing would look like.

I don't think so. I think nothing would look like this.