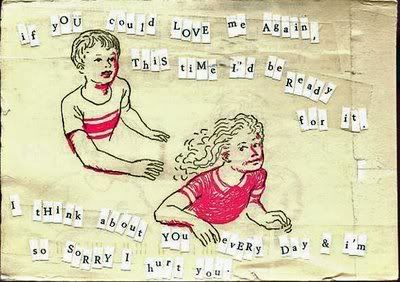 I read
PostSecret
every Sunday. It's sort of a habit - like I just check it every Sunday without realizing I do it. It only gets updated every Sunday, so that's why I do it then. But I love it. I phone interviewed the creator (Frank Warren) last October, and he was really nice. He came up with the idea as an art installation, and he basically just left a bunch of addressed blank postcards in Washington DC with instructions to write & illustrate an anonymous postcard containing a deep secret and mail it to that address. Postcards poured in and voila - PostSecret was born. It's also tied in with suicide prevention - and you see a lot of that in the secrets.
A lot of times I cry over them, because they're really sad. Some people have been raped, beaten and bruised and some have just beaten and bruised themselves. And of course, it's so popular because so many people see themselves in every secret. I've cut myself before, and I've had emotional/psychiatric issues (some might argue I still have those issues, based on the last week and today's rehearsal) and I see secrets all the time about these people who hate themselves so much and cut and hurt themselves, and I just wanna find out who they are and give them a hug.
Then there's the postcards that you wish were meant for you. Or the postcards you swear you wrote in your sleep and sent in. Or the ones that enrage you. Or the ones that are just really simple admittances... like "I always thought the overhead projector was an x-ray machine."
I really like them. I wish I came up with the idea. I've never sent in a secret, but I've always wanted to. I have a lot that I've thought of. I wish that all of my friends would send me anonymous secrets on postcards and I would try to decipher who sent which ones in and it would be like a giant puzzle. That would be fun.