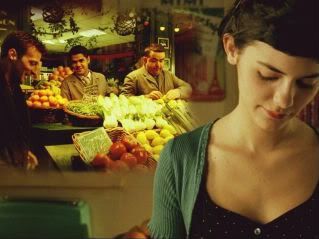 After the weird week I've been having – involving the inability to sleep due to scary movies, staying out late, doing things out of the norm, etc. – I needed to take a night off last night to recharge. I got into bed really early... I lit some candles... I got in the mood... and painted my nails while watching Amelie! :D
THEN
, I m-bated. (Kidding!)
I have a weird obsession with Paris. It's a recent thing – brought on by watching
La Vie En Rose
a few months back and listening to Edith Piaf non-stop. I love listening to the language, I love the sound of an accordion, I love the fashion: striped shirts, berets, Chanel. I love the art: Degas, Renoir. I love the croquet monsieurs. It's weird. So last night I decided to watch
Amelie
. Oh, Amelie.
When I told people I was going to watch it they said, "You're going to love it." And I did! First off, Audrey Tautou is probably the prettiest girl ever. She has the sweetest little mouse voice and the prettiest little face. It was just one of those movies that I could have watched forever. I only drifted off to sleep once! (I was so, so tired) but when the movie was over, I was smiling from ear to ear. I wanted to do nice things for people and kiss someone's face. And I drifted right off to sleep, unafraid of haunting demons. I didn't even need Nick Wilson to sing me Christmas songs to get me to fall asleep like the other night. Success.
I've also come to the conclusion that
if and when
I get married – all I want is for the reception to resemble the vibrant energy of a Renoir painting. That's all I ask. I don't want some crazy things, I just want energy.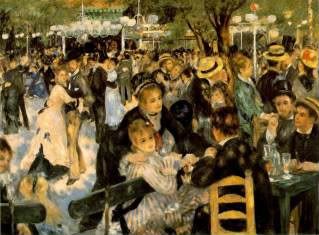 It was a magical, magical movie. And sleeping 9 hours was just as magical. Going away for the weekend – also magical. Being nauseous today? Not so magical.